Accurate Monitor for Search Engines
Check your web rankings in a minute
Search engine positions of a website is a gauge of your SEO efforts. If your rankings go up - good for you, keep up the good work. If they fall down - try it harder. But obviously,
checking the web rankings of your website manually is a tedious task and is 100% unproductive
. Isn't it better to spend your time on writing a good copy or obtaining another back link? Yes it is!
Here is where Accurate Monitor for Search Engines becomes indispensable!
With this SEO software tool you can track your current web rankings in all major search engines
starting with the leaders: Google, Yahoo and Bing in more than 50 countries. You can see both the organic (free) and paid listings to keep an eye on your AdWords ads too. You can set Accurate Monitor for Search Engines to check your rankings on the schedule, so you only need to look at the report it creates. And it creates PDF, RTF and HTML branded reports which can be sent by e-mail with a click, if needed.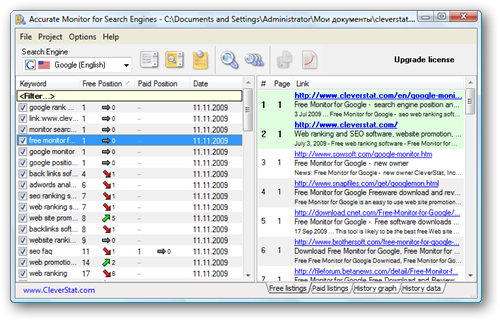 To add a bit more, Accurate Monitor for Search Engines supports just any language (due to the full Unicode support), shows snippets (not just URLs), includes a free keyword suggestion tool within, can work throuh a chain of proxies and is extremely friendly to search engines!
Click here to explore the exciting features in detail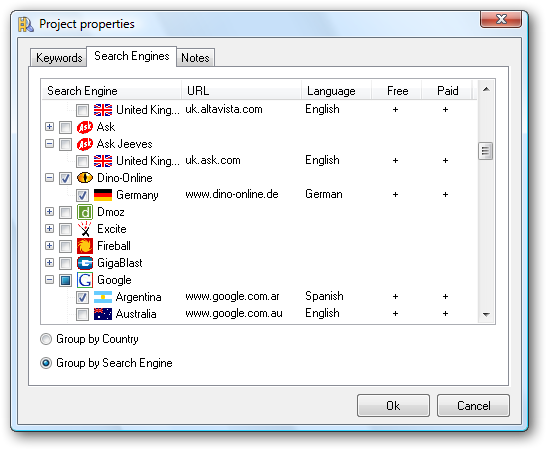 System requirements
: CPU 400 MHz, 128 MB RAM, Win 98/2K/XP/Vista/7, Internet access.
The trial version has the following limitations
:
30-day trial period
Exporting and printing reports is disabled
Maximum 10 keywords per project
What's New (version 2.9.61.178 - August 10, 2011):
Added Windows 7 support
Multi-proxy function now switches between proxies better
Multi-proxy function now supports proxy servers with authorization
The "gl" Google search option now can be set for each project individually
Minor bugfixes
Version history...
Accurate Monitor for Search Engines main features
Click a feature to read more on it
We are sorry, this software product is discontinued and is not supported anymore.


1
Important notice: Google does not support SOAP web search API anymore. This option is left for backward compatibility only.