Site Content Analyzer 3 - Overview
Professional website content parser
Site Content Analyzer 3 is new generation in website analysis software. It parses website on- and offline for keywords, suggests the most relevant and weighty phrases, analyzes link structure, and many more. With it, you can quickly discover the most relevant keywords and keyphrases for each page of your site, learn if the parameters of your site (that is keyword density, keyword weight etc) meet the guidelines of search engines. Moreover, all the info can be represented in a branded, highly-customizable report which you can export to PDF document or send by e-mail.

Site Content Analyzer 3 supports Unicode in full and thus you can analyze websites in any language. Learn more...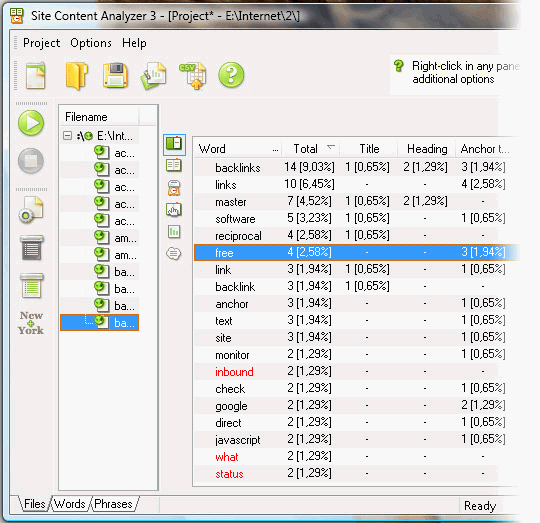 Main window
System requirements
: CPU 1,5 GHz, 512 MB RAM, Windows 2000/XP/Vista, Internet access.
This is a shareware 30-day free trial version. The unregistered version doesn't allow you to save projects and has limited export capabilites.
What's New (version 3.2 - June 6, 2008):
Multi-language interface
Bug fixes
Version history...
With Site Content Analyzer 3 you can:
Click a feature to read more about it.