Free Monitor for Google feature review
Monitors Google web rankings
It is very important to know how well your site is doing on Google to track the results of your web promotion efforts. Free Monitor for Google is
free web ranking software
. It monitors your rank in Google for each of your target keywords and also shows the number of competitors in Google.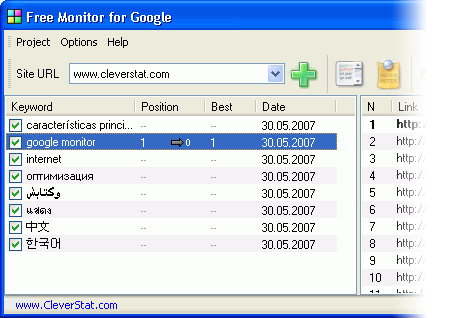 Main window
For each keyword, Free Monitor for Google performs a query to Google and shows its rank in the Google index. You can choose the way to perform the query: either the
default method
(just like in a browser) or via the
Google Web API
. Free Monitor for Google stores your best position for each keyword and the current trend: whether you have risen since the last search or fallen down.
Additionally, Free Monitor for Google shows the top positions in Google for each keyword (see the right part of the window on the screenshot above). By default, it shows top 10, but you can change this to anything you like.
Return to the features list