BackLinks Master feature review
Discovers backlinks
BackLinks Master is a simple, easy-to-use tool to help you find out what sites have a backlink to your website. It works as follows: first, BackLinks Master determines the overall number of backlinking websites using one of
three backlink sources
. Then it tries to load every page that is supposed to have a backlink and searches the text of that page for the URL of your website. If it finds the URL in an <A> tag or in a JavaScript block, it marks that site as having a backlink to you and proceeds to the next website.
BackLinks Master not only shows the current status of an inbound or reciprocal link, but also tells you whether this link is
new
(that is, there was no link from that site and it is the first time it is found there),
found
(still points to your site),
removed
(used to point to your site, but now does not),
changed
(its anchor text has changed) or
not found
(the link was removed two or more checks ago).
BackLinks Master detects both text and image links. It shows anchor text for text links and alternative text in the <IMG ALT="..."> tag for image links.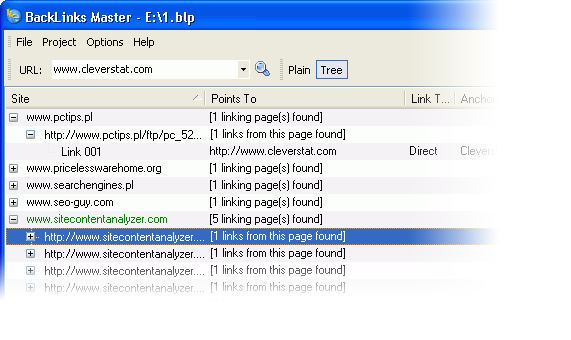 Main window
Return to the feature list