AdWords Clever Wizard feature review
Searches and competition info
One of the main AdWords Clever Wizard features is that it shows the number of searches per month for each keyword and also the number of listings for that keyword in the Google index. These values can be treated as the overall popularity of a keyword and the level of competition accordingly.

It is a very common task to find popular and demanded keywords with low competition. Those keywords can bring you more visitors (and therefore customers) than others. With AdWords Clever Wizard, you can do it really easily: add all keywords or phrases you want to check using the upper field or import keywords from a text file and then click Go. Once the search is over, you will find the searches info and the level of competition in the below list.

Take a look at the screenshot below to get an idea of what it looks like.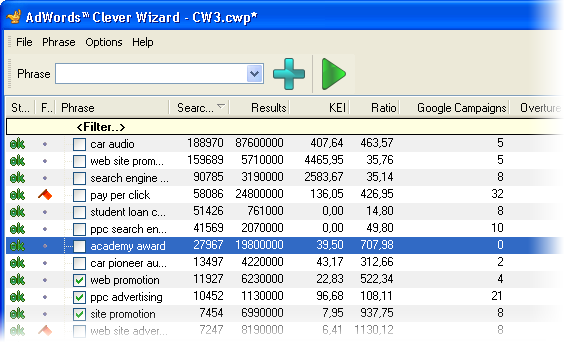 Main window - Keyword searches info
The source of the searches information is Overture Suggestion Tool. Of course, you can query it manually, but it is much faster and more convenient with AdWords Clever Wizard. The source of competition information is Google. Both sources can use international data centers to get results.
Return to the features list