Site Content Analyzer 3 - feature review
Investigate the links within your site
One of the convenient Site Content Analyzer modes is Link Mode, it provides an ability to analyze the internal links of your web site and their anchor text. For each link found on a page, Site Content Analyzer 3 shows its anchor text and also the URL it points to. Moreover, links that do not contain crucial keywords in anchor text are shown in red color, so you can quickly estimate whether you are using your linking potential in full or not.
Anchor text of links is one of the important parameters in SEO marketing, so you should pay a close attention to it and include your target keywords in almost any link of your site if that is possible. The anchor text influences both the linked and the linking pages, so you should select the keyword for this page element carefully.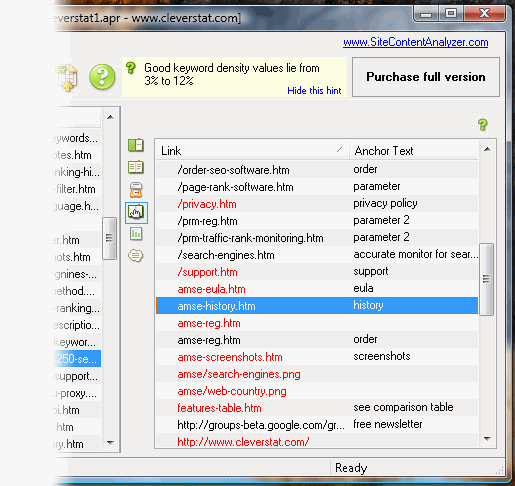 Results - link analysis mode
Return to the features list
Related links:
SEO
Search Placement Pros has placed 95% of their customers on page ONE of Google for the keywords of their choice. They can help you too.