SEO Altimeter
Traffic Rank, Link Popularity tracking software
Search engines have become one of the most important sources of a targeted, easily convertible traffic. More and more Internet users seeking for a product or service simply type the query in search engine's box and open the website shown in results. Thus, it is important to feel the pulse of your website, to see how well it is ranked and therefore how much profit it can make for you.

However, the task is not as easy as it may seem. You need to constantly monitor dozens of different parameters: website ranking, link popularity, traffic rank and so on and so further. Moreover, it is not enough to control your own website trends only — you should also monitor your competitors in order to be able to response on their marketing efforts and stay ahead of them.

Fortunately, you have the tool to do this tremendous work for you. SEO Altimeter is specially designed software tool to control all crucial internet marketing parameters including Alexa traffic rank, Google PageRank, overall link popularity in many search engines all over the world and many other vital info.

SEO Altimeter performs all the work for you in an easy, user-friendly way. It automatically checks all the vital parameters (the process is customizable), saves the trends and the history and provides a way to export all the data into CSV for further analysis.
| | |
| --- | --- |
| | |

Main window - search engine details (click to enlarge)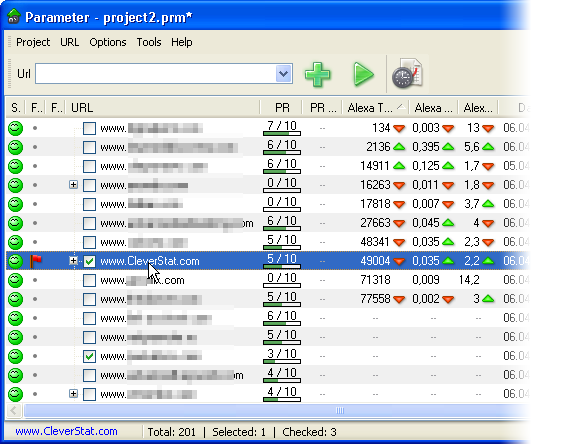 Main window - web info details (click to enlarge)
System requirements
: Pentium 200 MHz, 32 MB RAM, Windows 9X/2K/XP/Vista, Internet access.
This is a shareware 30-day trial version. The unregistered version has a limitation of 10 URLs maximum.
SEO Altimeter main features
Click a feature to read more about it.
Monitor web ranking in all major search engines
with Accurate Monitor for Search Engines.