SEO Altimeter - feature review
Learn Link Popularity of your website
SEO Altimeter is capable to obtain Link Popularity and URL Popularity from almost every major search engine available on the net. That includes Google, Yahoo and MSN link popularity.

Link Popularity - this parameter is a number of websites backlinking to you. Link Popularity is obtained via link:www.yoursite.com query.

URL Popularity - unlike Link Popularity, which is a number of backlinking webites, URL Popularity is a number of sites that have mentioned the URL of your website in a text of a page (not necessary with a link). URL Popularity is obtained via "www.yoursite.com" query.

Why Link Popularity is so crucial? Search engines take into consideration many web ranking parameters including website content, the number and the quality of the backlinks, the quality of outbound links from your site, an overall relevancy and others. Among them, link popularity has become one of the major ranking factors. That is why you need to track it to ensure your site performs well among other competitors.
| | |
| --- | --- |
| | |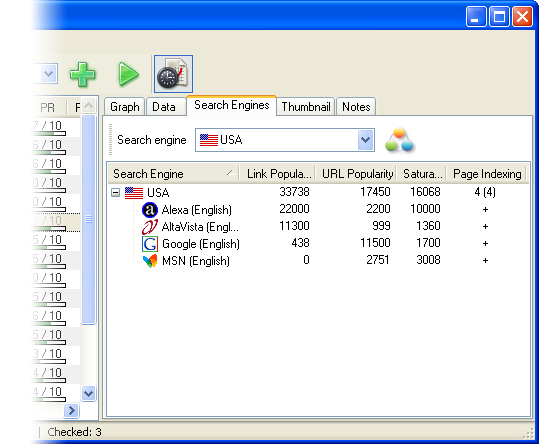 Main window - search engine details (click to enlarge)
Return to the features list