SEO Altimeter - feature review
Extracts URLs for further analysis
It is rather convenient to have the ability to check crucial web ranking parameters for a large number of URLs at once. But what if you need to check say PageRank not only for the base URL, but also for every page of your website? SEO Altimeter offers an easy way to add the URLs of every particular page on a site.

The tool is called Extract URLs and it does what its name says - extract URLs from any website and adds them to the list for further check.


Using a tool is easy:
Type a starting URL into the text box.
Customize the depth of extraction.
Click the Run button to start the extraction.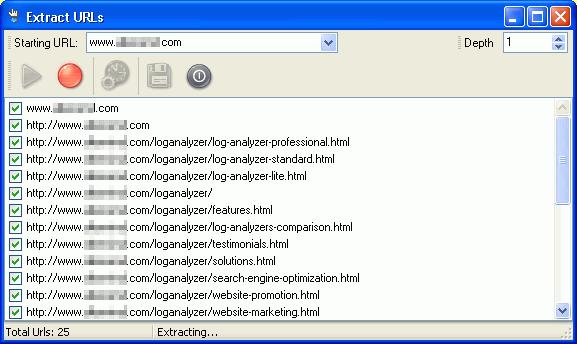 To stop the process, click the big red button.
Once the process finishes, you should see the complete list of extracted URLs. Mark URLs you need with a check mark and click the save button to add them into the main window of SEO Altimeter.
Return to the features list