Free Monitor for Google feature review
International Google data centers
Free Monitor for Google supports about 50 regional Google data centers. It allows you to query not only global Google (google.com), but also any local Google. Google web rankings may vary significantly depending on data centers. If your site is on top in one country, it may rank lower in other countries.
Currently supported countries: Argentina, Australia, Austria, Belgium, Bolivia, Brazil, Canada, Costa Rica, Cuba, Denmark, Ecuador, Fiji, Finland, France, Germany, Guatemala, Hungary, India, Indonesia, Ireland, Israel, Italy, Jamaica, Japan, Luxemburg, Malaysia, Malta, Mexico, Netherlands, New Zealand, Norway, Panama, Poland, Portugal, Romania, Russia, Senegal, Seychelles, Singapore, South Africa, Spain, Sweden, Switzerland, Taiwan, Thailand, Turkey, United Kingdom, USA.
This list is a subject to change and you should update Free Monitor for Google to keep the list up-to-date.
To switch between Google data centers, open the Preferences window and select your country from the drop-down list: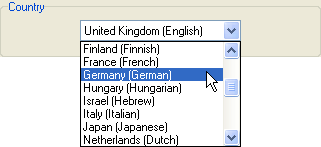 Important notice: Free Monitor for Google always searches the Web. This is the same as if you searched it in your browser and selected the "Search the Web" option instead of the "Search pages in country":

Accurate Monitor for Search Engines
supports searching in both ways.
Return to the features list